In-house legal work has changed. And this is just the start.
In the last year, legal work has changed beyond recognition, with tech solutions and flexibility the norm. The next phase isn't to go back to old ways, but to move forwards. And rethinking the in-house legal operating model to increase efficiency and manage growing demand is key to that.
Resourcing your team smartly and flexibly is a necessity rather than a nice-to-have. And using legal tech to support how you transform your operations is increasingly critical for success.
Dealing with today's challenges whilst also realising your longer-term vision is not easy. By building on our existing legal operations and tech consulting, our new partnership can take some of the strain.
---
Helping you get ahead
To help you navigate, LOD and SYKE are partnering to bring you the best-of-the-best in alternative legal services. By adding SYKE's technology implementation to our flexible resourcing and operational and tech consulting, we can now meet your needs end-to-end.
You'll benefit from the joint expertise of the UK's market-leaders, steered by teams who have spent their careers in-house, walking in your shoes. We know how to make this easy for you and how to overcome your unique challenges, both immediate and longer-term.
---
LOD
As the pioneers of alternative legal services, finding new ways to evolve is at LOD's core. Powered by a global, diverse and flexible workforce, we fill gaps in your team's capacity and expertise - whether secondments and managed teams, or operational and tech consulting.
SYKE
As the world's largest and fastest growing specialist in legal tech delivery and implementation, SYKE are fronting the digital transformation of the legal industry. Their focus is on embedding the latest innovative tech to drive efficiency and remove unnecessary tasks. Product agnostic, they find the solution that's right for you. Learn more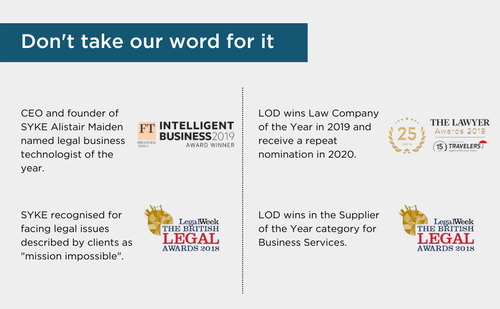 ---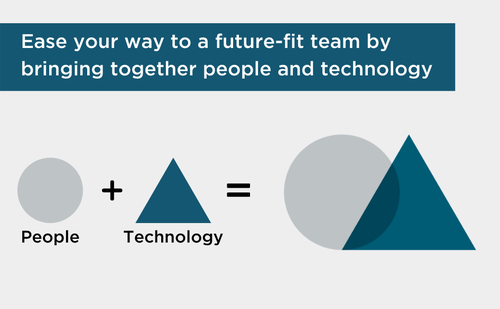 For today and for the future
Practical resourcing, operational and tech outcomes delivered by in-house experts
Simple steps to start your digital strategy, or move you forward if you're stuck
Cutting through the legal tech noise with clear, impartial answers
Even better together
Flexible solutions bespoke to your needs – whether operational or tech, or the best balance of both
Enhanced Managed Services underpinned by best-in-class legal tech
A clear view of the future of legal services, and practical support to help your team get there