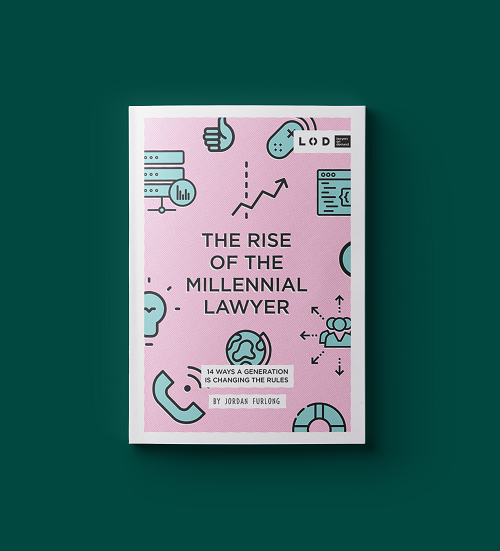 Last updated:
April 28, 2021
In May, Lawyers On Demand released their fourth report authored by leading legal market analyst Jordan Furlong titled, The Rise of the Millennial Lawyer, which centred on how millennials have begun to drive a seismic shift in the legal profession.
A SIGNIFICANT cultural shift is upon us as millennial lawyers begin to outnumber the baby boomer generation in the workforce. Our recent industry report outlined 14 ways this generation is changing the rules.
As Jordan Furlong points out, "The market is changing from a dormant, lowtech, individualistic system to a dynamic, high-tech, collaborative one." At LOD, we are seeing the transformation already as our clients' demands change, their buying power increases and the market generally becomes more sophisticated. Millennial lawyers are driving this change through a combination of increasing market pressures and their generational propensities.
So what are millennial GCs demanding from their suppliers, and how will this impact law firms?  Below we list some of the key expectations outlined in our report.
(1) Diverse
Not just a fad, millennials take diversity issues seriously. They want to make the world a better place. And they expect their service providers to also take it seriously. The leadership profile of law firms is changing (albeit slowly) in response.
Many firms now have diversity targets and the ethnic and gender diversity in senior positions is gradually changing. Real change will happen however when firms move away from traditional hourly rate billing and promote value-based billing – a structural change that enables more flexible ways of working, resulting in more women able to remain in or return to the workforce. With over 65 per cent of our workforce female, we are certainly seeing this shift at LOD.
(2) Multidisciplinary
As deals and businesses become more complex, legal teams will increasingly need to include non-legal specialists as integral members of their teams to achieve the best results.
We are already seeing an increase in the need for regulatory and compliance professionals, for example. The result: millennial-led law firms will increasingly become multidisciplinary or strategically aligned with other specialists and the pure legal partnership will be a dinosaur.
(3) Predictably priced
There is no doubt that millennials dislike time-based billing – don't we all? Their desire for flat fee structures and other flexible pricing models will result in the billable hour being the exception to the rule. It will also put pressure on law firms to provide value and certainty as GCs increasingly use analytics to measure cost and productivity.
Our experience reflects this, with the success of our On Site fixed pricing and our On Call retainer pricing – matching our clients' needs for both flexibility and pricing certainty.
(4) Choice
Millennials are demanding choice.  In all consumption decisions, they have choice available to them more than ever before.  So why wouldn't they demand choice and determine the best option available to them in buying of legal services?
Loyalty to a single law firm is rare already with loyalty shown more to individuals with specialist expertise and clients are far more willing to explore alternate legal service offerings.  One of our banking clients has even created a dedicated alternative legal services panel.
(5) Customisation
One size does not fit all. Bespoke is the word of the day. The millennial clients want solutions tailored to their needs and interests. What this means for law firms and legal providers is that they will be required to give their clients exactly what they want, immediately, while allowing the client to have control over as much of the process and product as possible.
Working in partnership with suppliers will be critical. Millennials want to be treated like a partner and not just a purchaser.
Millennials will lead the in-house teams and law firms of tomorrow, and we need to be ready for this inevitable shift and what that means for the industry. But, as Jordan Furlong says, "Tomorrow is here." This generation is not afraid to take their business elsewhere if left unsatisfied. It will be the legal service providers who adjust and adapt to the changes upon us, who will dominate the legal market.
View the entire report: The Rise of the Millennial Lawyer.