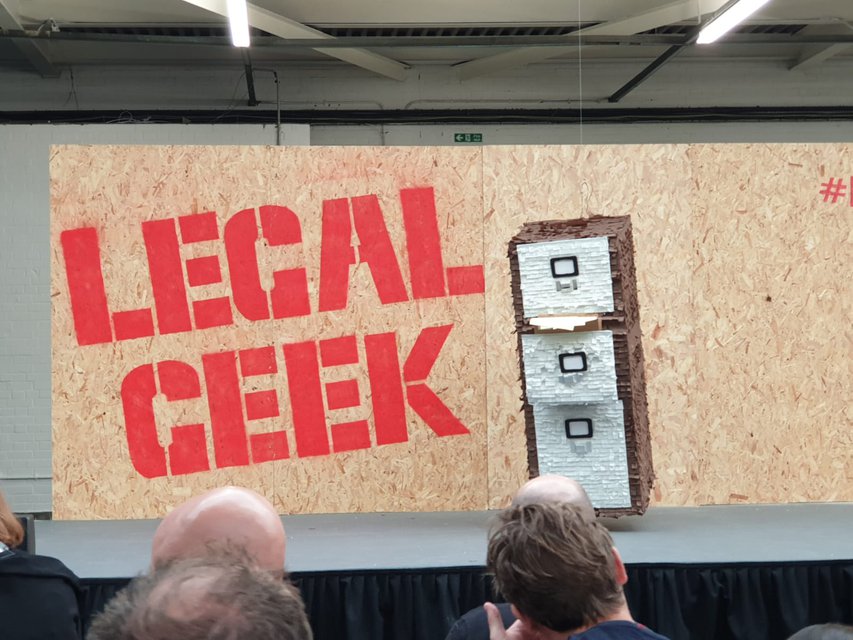 Last updated:
April 30, 2021
Another year, another record-breaking Legal Geek event. With over 2000 attendees and 100 speakers pouring into East London – Legal Geek has become the leading symbol for the legal innovation scene in the UK. Full of excitement, enthusiasm, leading acts and multiple stages – Legal Geek is the Glastonbury of legal tech and innovation. It had floating filing cabinet piñatas, face-painting, VR experiences, mandatory high-fives and even a Willy Wonka…and people dressed as hedges.
Side-stepping the trappings of the day, there was a massive amount of substance to be considered, challenged and perhaps adopted at some level. With an event of the scale of Legal Geek, it's not an easy task to distill the key messages, but here's our take – some familiar, some new:
Customers? Clients? Users?
Lawyers love to talk about clients but often cringe at the word customer… as it can seem a little beneath the profession. Customers are for retailers; clients are for professional services. But this isn't the right way of thinking about it. Susan Hackett (CEO, Legal Executive Leadership) talked about the need to focus on the customer – to shift from lawyer-centric to customer-centric. It might be scary but CX is critical to getting the right service model.
"We have a system that was designed by the people working in it — rather than those using it. And that's a huge barrier for access to justice. We have to make that system better for everyone by putting our users first" – this quote by Susan Acland-Hood (CEO, HMCTS) neatly encapsulates the important of putting users first. This is the same point as putting the customer first. Why are these so important? When you put you customer (or user) first, it reduces waste and removes complexity.
Storytelling
Ben Chiriboga underlined the importance of storytelling and how it can help drive and promote change. Stories are more powerful than pure logic – insofar as they generate emotion and trigger the release of chemicals like cortisol, dopamine and oxytocin. We checked, and according to Princeton neuroscientists – this is true. Storytelling is a human motivator, more compelling than just information.
Borrowing from the StoryBrand™ framework, Ben showed the audience how storytelling is bringing people on an exciting journey – framing problems and solutions as something closer to Greek epics than consultancy frameworks.
Collaboration – yes, it's that word again
Collaboration is a buzzword par excellence.  Let's try and remove the patina of triteness and tackle the pragmatics of innovation. Helping everyone to do this was Isobel Parker (CLO, Herbert Smith Freehills) and Chris Grant (Law Tech Director, Barclays). They described how collaboration can happen between law firm, suppliers and clients.
You need to share a vision – straight from a design thinking greeting card 'there's no innovation without collaboration' and you're much more likely to succeed when everyone is working towards the same shared goals.
Sharing isn't always caring – don't break the law! – With legal tech providers promising value adding bolt-ons at every turn, understanding where your data is can be a challenge often addressed too late in the design process.
Don't waste time protecting stuff with no strategic value – the legal industry has a reputation of under-sharing for risk of plagiarism but are any of us doing anything radically different? If you understand your core USP and protect that, you're far less likely to be a roadblock during the process.
Respect & nurture the ecosystem and it will pay you back – like the symbiosis we see in nature, collaboration in professional services does fit into a wider and sometime delicate environment that requires care and attention.
Originally offence, now defence?
Brad Blickstein (Blickstein Group) compared the relationship between law firms and in-house teams to an American football team with everyone starting their journey learning to play offence (aka the billing model). When you transfer in-house, you're often forced to play defence, managing multiple stakeholders and reacting to the needs of the business. The challenge is, you've never been taught how to play defence!
With spend management being a key focus for most GCs, you can see how the offence and defence can reach an impasse. How will law firms react when AI can do in 2 minutes, what a mid-level associate would normally charge 8 hours for? Brad's prediction is that law-firms can thrive the impending reality of technology, but they'll need to move away from their offence model.
Legal Geek 2019 was frenetic at times, but inspiring in the main. The real challenge is working out the art of the possible for your organisation. The sober, long-haul work is where the difference is made.
Stayed tuned for more Legal Geek and Legal Design content – coming to you soon…
You may also like
Legal Design Geek Conference 2018 - thoughts on design thinking
Read article