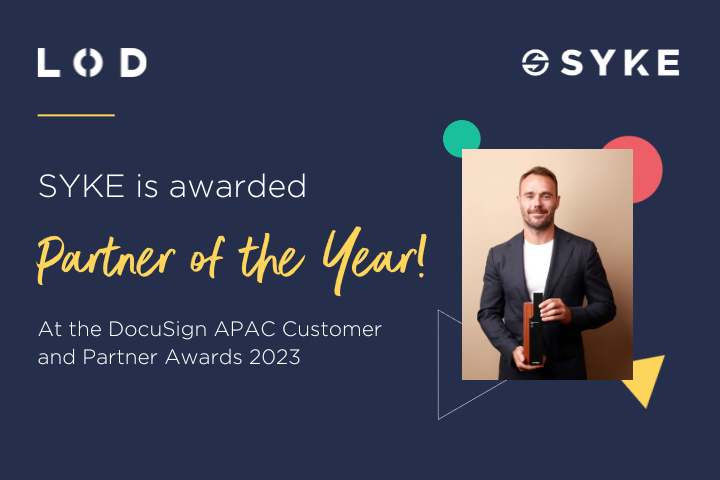 DocuSign announce SYKE as Partner of the Year at the DocuSign APAC Customer and Partner Awards, held on 17 August 2023. This recognition celebrates the huge innovation and technology advancements that have been the key drivers of the partnership.
DocuSign and SYKE (the legal tech consulting arm of LOD) have worked closely together for more than 6 years, transforming the way our clients do business through streamlined technology and process efficiencies. SYKE is a platinum partner of DocuSign and was also awarded the Growth System Integrator, Partner of the Year for EMEA in 2022. These awards acknowledged our dedication to delivering complex contracting projects and CLM implementations and are a testament to the successful global partnership of SYKE and DocuSign, recognising the thriving relationship.
James Kenney, Head of Legal Operations and Tech, LOD and SYKE, said "We are incredibly honoured to receive the Partner of the Year Award from DocuSign. We thank DocuSign for trusting us to be their implementation partner throughout the world. Our collaboration has consistently delivered exceptional outcomes for our clients, through a combination of DocuSign's technology and our innovative strategies".