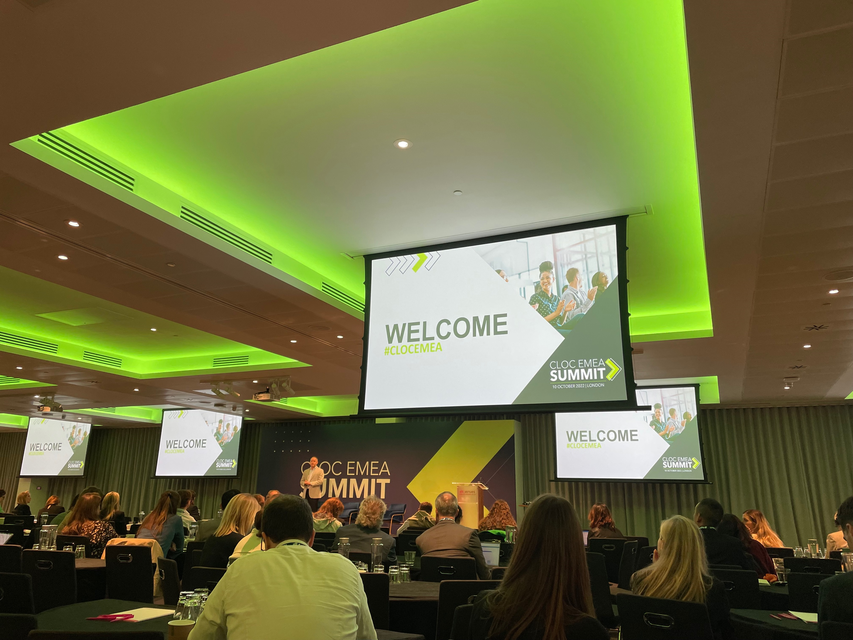 Last updated:
April 6, 2023
LOD's Client Solutions Manager, Elliot Kushner, shares his main takeaways from this year's CLOC EMEA Summit.
LOD and SYKE spent the day at CLOC's much anticipated EMEA Summit. The must-attend event for legal operations professionals hosted people from all corners of the ops world: in-house professionals, law firms, suppliers, consultants, and even those just curious to learn from such a rich community. The day was filled with interesting talks, pioneering thought leadership, and plenty of calls to action to keep progress coming.
Here are my 5 takeaways from the amazing day:
1) Legal operations professionals are changemakers
This is as true now as it was 10 years ago. The fact that many of the job titles at CLOC didn't even exist a decade ago really shows just how powerful that change is and the momentum it carries. There is a real need within business for this unique discipline to innovate and transform in-house legal teams and businesses around the world.
2) The future of legal departments looks very different
The legal function is becoming one of the most important stakeholder groups within a business and it's being more actively relied upon for different things. Legal leaders are increasingly seen as tactical partners, moving away from being a pure cost centre to driving revenue, co-leading product development and being fierce brand ambassadors. At a micro level, work is expected to become more polarised between BAU and strategic. We'll also see a growing percentage of non-lawyer professionals within legal functions (many teams are already at 50% or greater), further emphasising the evolution of the legal function.
3) The community is real!
Challenging the status quo, as legal operations professionals are tasked with every day, is hard. But what makes it easier is having a strong community to lean on and draw lessons from. Whether that's knowledge sharing or testing new products, the wins can be celebrated and the losses commiserated as a community.
4) Work together to make the business case for operational improvements
It can be difficult to get internal stakeholders on board but there are lots of ways to build that case. My 3 key tips are:
Measure the starting point. How long does it currently take to review certain contracts? How long does it take to close a sale? How many instructions are received from the business via email or phone? Having this information down makes it possible to set measurable goals, track progress and show deliverables.
Be vocal about the operational wins and empower other to do the same. If there's a successful tool, shout about it and get the team to tell everyone how much it's improved their jobs!
Think about enterprise level (not just individual teams) and collaborate with other colleagues. For example, Marketing/Comms professionals are fantastic and vital for spreading a message or presenting new ideas to the wider company. Get them onboard to help showcase those enterprise-level benefits.
5) Legal operations people like a party
They know how to let their CLMs down and have a good time!
You may also like
The State of Global Legal Operations 2019: CLOC Las Vegas
Read article