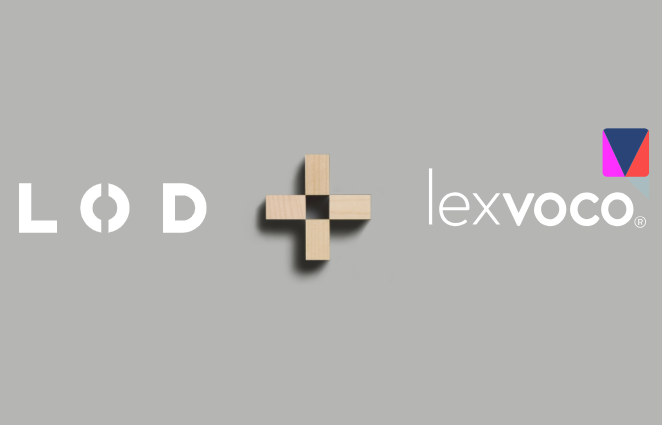 Last updated:
April 29, 2021
LOD is delighted to announce the acquisition of lexvoco, further positioning itself as one of the world's largest and fastest-growing innovative legal services businesses. The combined business will be known as LOD and will bring together a shared commitment to better ways of working for both lawyers and clients.
lexvoco, which launched in 2014, has established itself as a high quality, trusted brand in the Australasian market with an impressive track record of helping in-house counsel succeed by delivering innovative legal operations and legal-tech solutions as well as providing law firm services.  LOD has sought to enhance its capabilities in these areas and saw it as an opportune time to bring lexvoco's expertise on board.
In 2018, LOD announced its partnership with Bowmark Capital as majority investor, giving LOD access to capital for its next stage of growth.  This deal bolsters LOD's expansion by adding new services, geographies and technology to their existing offering to lawyers, consultants and clients.
The legal operations and legal technology function of lexvoco will join forces with LOD's Designed Solutions and will now be known as "LOD Innovate" across the Asia Pacific, headed up by lexvoco Founder and CEO Anthony Wright.
"This is an exciting time for LOD, our lawyers and clients.  Enhancing our capabilities in the legal operations and tech space has been a strategic priority for LOD for some time, and we have already invested in this with recent hires,"  comments LOD COO and Co-Founder Ken Jagger. "To add the expertise and success of the lexvoco team will create further value to our lawyers and clients."  Ken adds "we've known lexvoco for some time and the similarities in approach and emphasis on quality by both businesses made this opportunity a great fit for LOD."
LOD will have the lexvoco teams join them in their combined offices of Sydney, Melbourne, Brisbane and Perth whilst adding Adelaide, Geelong, Auckland, Wellington and Christchurch to the LOD global network.
Paul Cowing, LOD Australia Managing Director says "we are thrilled to have lexvoco's highly regarded team join LOD.  They are great people who have built a very impressive business in the space of 4 years and are just as driven as we are to innovate, transform and further expand the legal industry.  We will be able to provide unique opportunities for lawyers and a greater depth of resources and significant value for clients both nationally and globally."
lexvoco's Founder and CEO, Anthony Wright, who will be heading up the new LOD Innovate offering in APAC adds, "LOD has been a force in the global alternative services market for a decade and we are delighted to be a part of their strategic expansion.  We're really impressed by their people and their ambition.  This feels like the perfect next step as we truly believe that this new direction will allow us to offer our expertise on a global platform from day one and provide tremendous opportunities for our team."
The combined growing client list is one that any large international law firms would envy and includes multinationals, global financial institutions, government, a number of Australasia's largest public and private companies and numerous start-ups and fast-growing SMEs from a variety of different industries.
For more information please contact:
Anita Thompson, Head of Marketing & Communications (APAC)
anita.thompson@lodlaw.com,  +61 416 259 916
Press coverage to date: