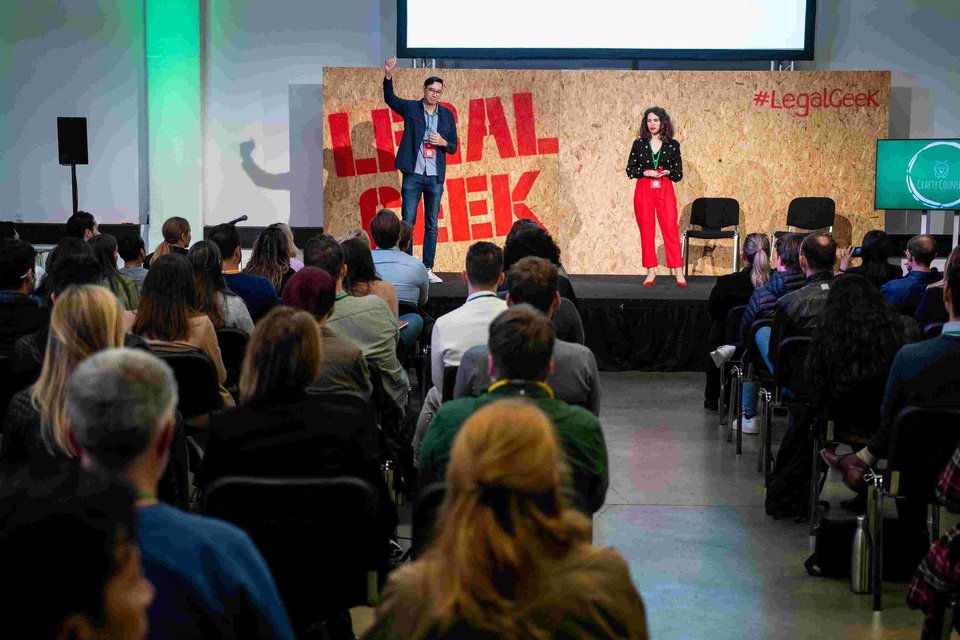 LOD's Solutions Lead, Aisling Hubbard sums up this year's (in person!) Legal Geek Conference.
When was the last time you went to a party in East London? Okay, I know a lot of you wouldn't call a gathering of lawyers and legal technologists a party, but the mood was buzzing and after the last year or so it was exciting to be back with our friends in the lawtech and legal innovation world at the old Truman Brewery for this year's Legal Geek Conference. And there was lots to celebrate. Aside from being able to meet in person again (!), there have been lots of developments in legal innovation accelerated by a year like no other. Like most days back in the city, the day got started in the barista queue, a great place for striking up conversations with fellow java junkies about their motivations for attending the conference.
Caffeine kicking in, attendees settled in to watch legal tech and in-house professionals take to the stage to share their insights from the last year and their ideas for the future of legal. They spoke on a range of matters from learning to better utilise the tech you already have (Andy Lyons, GC at FundApps) to discouraging "mouldy sandwiches" in your legal team (Zuzana Blazkova, Associate GC at Kambi). No, I'm not talking about the left-over lunch stuffed at the back of an office drawer (although I'm sure there are a few of these left over from March 2020), but about best practice in managing your legal team. It was also refreshing to hear both Daniel Chin (GC at ARRIVAL) and Richard Evetts' (Head of Legal at Monzo) takes on the role of leading an in-house legal team in an ever-changing business landscape, notably post pandemic.
These musings tied well to the theme of LOD and SYKE's main stage talk on Trust, the resounding message from our 2021 Global Survey of GCs, Heads of Legal and in-house practitioners. And it couldn't have been better demonstrated by what people were saying at Legal Geek. It's time to trust in the business and give them the tools they need to empower them to make decisions. It's time to trust in your legal team and lawyers to deliver output, not hours. And it's clear that there's been a turning point with the advancement of technology solutions too: front door to legal, automation and processes that are seamless, transparent, and convenient for the business.
As the day began in the barista queue, so it ended at the bar (well we were in brewery after all). It was an opportunity to digest the topics of the day and catch-up with peers, clients, and team members. It was great to be back at the Legal Geek Conference and it felt like this year there was an amped level of inspiration and energy to make more and better changes to how we do legal. Now, it's time to put it all into practice.
Being a Geek has never been so cool!
You may also like
Cutting through the **I.T. Decoding the legal tech market
Read article